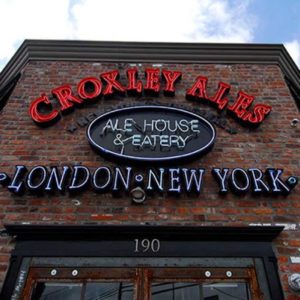 Welcome to Croxley's Farmingdale!
Congratulations to the HHCBC and AssLIHC Award Winners at this year's Hudson Valley Homebrew Competition, in Poughkeepsie, NY!
John DiSpirito – 3rd, Light Hybrids & 3rd Dortmunder Export
Bernard & Claudia – 3rd, Saison
Sal LoPinto – 3rd, Scottish/Irish Beer & 3rd, American Pale Ale
Ken Heiss – 2nd, American Pale Ale & 2nd, American Amber/Brown
Mike Murphy – 2nd, Belgian Strong Ale
Peter Tripp – 2nd, Swedish Fish 🙂
CIDER SWEEP – 2nd Year in a Row!
2nd Place, Best of Show, Cider…Tom Weber!
Upcoming Events!
Friday, March 23rd – Small Craft Brewery – Amityville
Saturday, March 24th – AssLIHC Tri-Club/Inter-Club Social –

The Brewer's Collective – 4PM – 7PM

Sunday, March 25th.

– Coney Island Wort Share Competition and Social – Everyone should try and swing by for good brews, good times and good luck to our club members who have entered! Winner gets a chance to brew with Coney Island Brewing!

Saturday, April 7th

– Social Opportunity – 3

rd

Annual Cask Ale Charity Event, The Mill Roadhouse in Westhampton Beach – Fundraiser for Kids w/ Type1 Diabetes. Raised $3,000 in 2016; $5,000 in 2017 and looking to set records in 2018. – Jen Davis (LIBME)

SAME DAY! Saturday, April 7th

– Brew for Autism, in Staten Island. Tickets are Sold Out, but stay posted to our social media pages to catch up on festivities for this great fundraiser event. The Club and Pete's Shop will be pouring for a good cause.

SAME WEEKEND! Friday, April 6th through Sunday, April 8th

– First Round Judging for the National Homebrew Competition. Anyone seeking to volunteer as a steward can sign up. Several HHCBC/BJCP Judges will be attending; Several Club Members have entered under the AssLIHC Banner to get points for all of Long Island. Awards and announcements are Sunday Evening, 4/8, so swing by to show support!

Saturday, April 14th

– The Brewer's Collective's Birthday Event

Saturday, April 21st

– Blue Point Cask Fest – Find these coveted tickets and join us for what is known as one of the THE BEST events of the year!

Saturday, April 28th

– Belmont Spring Craft Beer Fest

Saturday, May 5th

– Big Brew Day @ GSB

May 11-12th

– B.E.E.R. Homebrew Competition @ GSB

Stay tuned to the Club Facebook Page and Email List for More Upcoming Events!
Upcoming Competitive/AHA/BJCP Events:
Club Competition. DEADLINE EXTENDED FOR ONE WEEK ONLY!
Three Rounds in 2018.
Deadlines in March, June, September.
March 20th Deadline for the First Leg of the Competition – Winner Chance to Brew at 1940's Brewery.
Details and Sign-Up IS AVAILABLE NOW!
Upcoming BJCP Judges
BJCP Beer

Course – June – August 2018 = [JOHN]
AND NOW, A MESSAGE FROM THE CHAIRMAN…
Chopped Competition. Three Rounds in 2018.
Deadlines in May, August, November.
Details and Sign-Ups will be sent out shortly.
Travel Planning for HomeBrewCon
Chris Bonacorsa has agreed to head up the committee for planning related to HomeBrewCon this June in Portland, OR.

He's been in touch with the AHA, and has posted a form to sign up if you're interested in going.

Please see Chris if you're interested.
Merchandise
AJ has limited club shirts available for purchase. Conversation has started for club hoodies, sweatshirts and other items.
Membership/Discount
See [Claudia] after the announcements to sign up or renew for 2018.

$25 Charter Membership

$35 Charter + Tri-Club

$40 Family Membership

$50 Family +Tri-Club
'
Reminder, Discount: Lyft – Use Code "HHCBC" – Plan you travels, get home safe!
GUEST SPEAKER: Chris from Guinness US! Outstanding flight of Guinness products, especially the surprising Antwerpen Belgian-style Stout. History and overview for Guinness was presented and discussed.
GUEST Vendors: The Hop Brothers were on hand to share samples and sell NY State-Grown Hop Pellets!
Next Meeting
Next meeting will be Tuesday, April 17th at Press 195, Rockville Center…the rep from Greenport Brewing will be our guest speaker!
Thanks to Croxley's Ale House!